Are the JTAG ports of JH7110 available on visionfive 2? Seems they are not on 40-pin gpio port.
The area probably in the 40 pin header. They're hard to find because there is a huge pin multiplexer that can be manipulated by code running before your code that can move them.
I haven't successfully sussed them out yet on Pine64,. Though we did succeed (and build boards for) BeagleV.
Someone (dramforever?) Has a good blog post on this, but I don't remember what board. It was while I was between JH parts.
Thanks. I'll try when I get the board.
I have configured some pinmux in dts and tried to connect the chip with jlink.
I got these error. Is the jlink not support the chip or other config issue ?
ConfigTargetSettings() start
ConfigTargetSettings() end
TotalIRLen = 10, IRPrint = 0x0021
JTAG chain detection found 2 devices:
#0 Id: 0x07110CFD, IRLen: 05, Unknown device
#1 Id: 0x07110CFD, IRLen: 05, Unknown device
Connect failed. Resetting via Reset pin and trying again.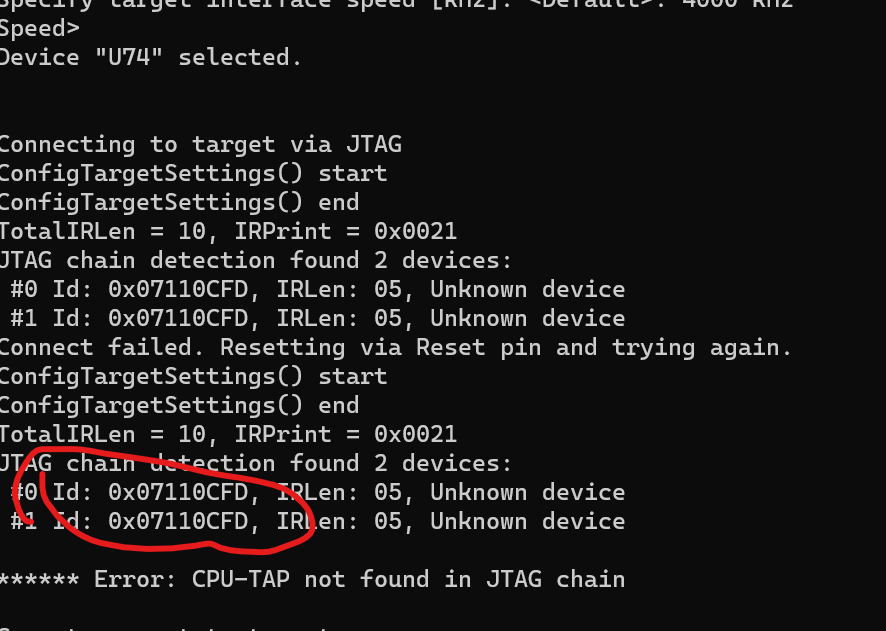 StarFive Official U-boot has been configured the JTAG port. Can be found here → u-boot/starfive_visionfive2.c at JH7110_VisionFive2_devel · starfive-tech/u-boot · GitHub
Corresponding to the 40pin header, as shown in the figure below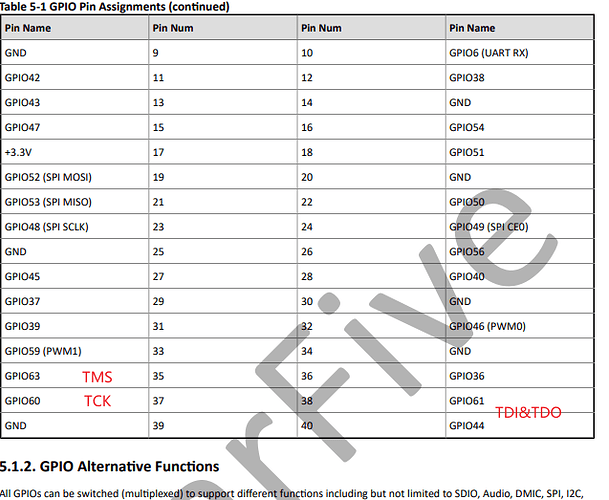 Using the jlink to connect the chip, can refer to J-Link RISC-V - SEGGER Wiki
int InitTarget(void) {
  //
  // TDI -> TAP_#1 -> TAP_#0 -> TDO
  //
  // TAP_#0 info:
  //   IRLen: 5
  //   TAPId: 0xDEB11001
  //
  // TAP_#1 info:
  //   IRLen: 5
  //   TAPId: 0x20000913
  //
  //
  // Code to connect to TAP_#1
  //
  JLINK_JTAG_DRPre  = 1;
  JLINK_JTAG_DRPost = 0;
  JLINK_JTAG_IRPre  = 5;
  JLINK_JTAG_IRPost = 0;
  JLINK_JTAG_IRLen  = 5;
  JLINK_JTAG_SetDeviceId(0, 0xDEB11001);
  JLINK_JTAG_SetDeviceId(1, 0x20000913);
  return 0;
}

Ozone with Jlink-v11 on tap1 like this: