After watching rust fail to link repeatedly last week, I resorted to creating a massive (110GB) swap partition on an Optane NVME drive to force the job through the OOM error. On the recommendation of @jiangtao9999 I tried doing it again with very aggressive zram settings. I gave zram 7GB of RAM and enabled zstd as the compression algorithm. After watching the memory usage of the linking phase with the Optane swap, I knew zstd only needed to accomplish 2:1 compression to get through the compile.
My board is a rev 1.3B 8GB model booting in SDIO.
The boot drive is an old micro SD card I pulled out of an underwater camera, a Lexar 32GB (it says 300x and I think Class 10). It's running the cwt14 Archlinux image.
It's running to host a chroot Gentoo environment I've been messing with on a Samsung Pro Endurance 256GB Micro SD attached to the VF2 via a USB3 card reader. This is the drive used for the compile and any other data files used.
The last drive of note is an Intel P1600X 118GB Optane NVME SSD.
I wrote a small bash script to log the CPU, RAM, and Swap usage every 1 minute over the 9-10 hour compile which was handled by emerge rust. I unfortunately forgot to log the CPU temperature, but I don't think excessive temps influenced anything. My board currently resides on a 200mm fan that is the top exhaust of my desktop PC, so it gets pretty good airflow. CPU usage is loadavg * 1000 to make it visible on the graph.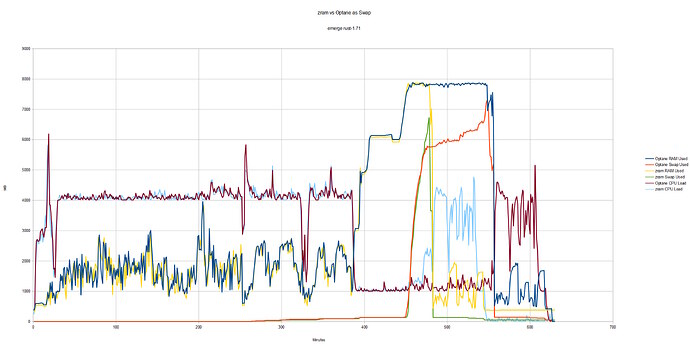 This graph is a little busy, but I think it displays how well the VF2 performs with zram. The zram configuration completed the source unpacking, configure, compile, link, merge, and install in 543 minutes, while having to resort to an SSD for swap extended the same workload to 618 minutes, or 75 minutes slower or 14% longer.
The differences between the 2 configurations are minor until the linking stage needs over 6GB of swap, then the SSD starts to have trouble for the next ~2GB or hour. I don't know why.