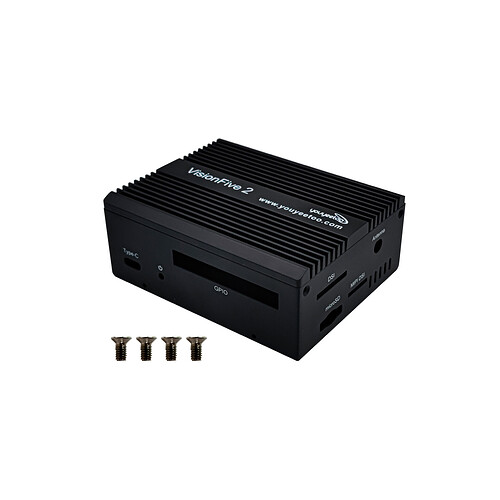 [Shell Fits Perfectly] The VisionFive2 single-board computer metal enclosure can protect the bare board well, fits perfectly, and there will be no extra gaps, preventing VisionFive2 from being damaged by its own shaking.

[Strong Heat Dissipation] VisionFive2 metal case is made of metal material with extremely strong heat sink, which can bring strong heat dissipation and anti-corrosion capabilities to the product.

[Extremely Easy to Assemble] The VisionFive2 Mini PC black metal case is equipped with 4 screws, just put the bare board into the case, install the screws, and the assembly is complete and you can start using it directly

[Strong protection] Made of hard metal material, it can well prevent VisionFive2 micro desktop computers from being hit by hard objects and physical damage. It makes VisionFive2 last longer.

[Improved Performance] This motherboard enclosure is designed for engineers, mechanics and hardware enthusiasts who need to improve the running performance of the Visionfive2 SBC and increase its durability.
–Tips–
We accept bulk orders and can support logo customisation, please leave a message for details at "wpd@youyeetoo.com".
Black Metal Case: SHOP NOW