Maybe this is best distro for StarFive VisionFive
I am so busy these days, please give some time to update kernel version
Great, thank you. Gonna try it out in a couple of minutes

The new one upload complete.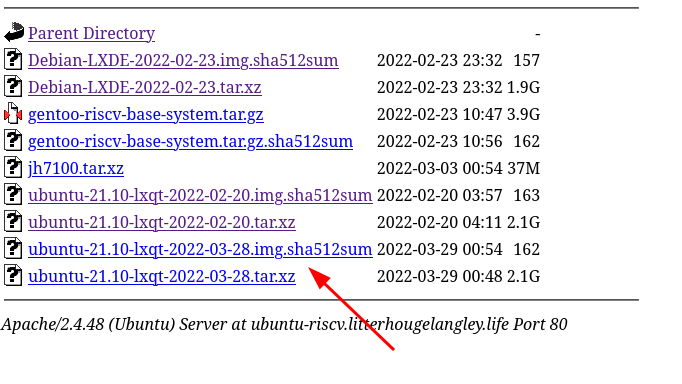 Great work, Thank you


I broke my lubuntu image 30 minute ago so I will use new image
and please can you remove other desktop environments and developer stuffs from lubuntu because it make the image size bigger and we as visionfive users will not use openbox, gnome or lxqt (lxqt environment not work for lightdm but lubunut work)
Hi, is there some sort of changelog available?
Thanks alot for your efforts!
Oh, sorry, I just update system and kernel. So… Next time I will list some changlog.



Do you think that has any impact performance wise? Just wondering if updating to another card is worth it right now

I have question about lightdm why you choose it
Is SDDM not work for rv64gc?
For my test, sddm not working great, so, I have to choose lightdm.
The other reason is lightdm loading much fast.
@Houge_Langley I've some good news regarding the wifi issue


Seems there is a symlink missing in the firmware lib directory.
Out of the box after booting up the latest Ubuntu image:
$ sudo modprobe -vv brcmfmac
modprobe: INFO: ../libkmod/libkmod.c:365 kmod_set_log_fn() custom logging function 0x2abfcff954 registered
insmod /lib/modules/5.17.0-ubuntu-starfive/kernel/net/wireless/cfg80211.ko 
insmod /lib/modules/5.17.0-ubuntu-starfive/kernel/drivers/net/wireless/broadcom/brcm80211/brcmutil/brcmutil.ko 
insmod /lib/modules/5.17.0-ubuntu-starfive/kernel/drivers/net/wireless/broadcom/brcm80211/brcmfmac/brcmfmac.ko 
modprobe: INFO: ../libkmod/libkmod.c:332 kmod_unref() context 0x2afcffb430 released

$ nmcli d
DEVICE   TYPE      STATE      CONNECTION         
eth0     ethernet  connected  Wired connection 1        

I stumbled across a comment on Github: WIFI NOT working[brcmfmac driver] · Issue #41 · starfive-tech/Fedora_on_StarFive · GitHub
mentioning:
symlink it to brcmfmac43430-sdio.AP6212.txt
So that's what I did:
$ sudo ln -s /usr/lib/firmware/brcm/brcmfmac43430-sdio.AP6212.txt /usr/lib/firmware/brcm/brcmfmac43430-sdio.starfive,visionfive-v1.txt

$ sudo modprobe -vv brcmfmac
modprobe: INFO: ../libkmod/libkmod.c:365 kmod_set_log_fn() custom logging function 0x2abdca8954 registered
insmod /lib/modules/5.17.0-ubuntu-starfive/kernel/net/wireless/cfg80211.ko 
insmod /lib/modules/5.17.0-ubuntu-starfive/kernel/drivers/net/wireless/broadcom/brcm80211/brcmutil/brcmutil.ko 
insmod /lib/modules/5.17.0-ubuntu-starfive/kernel/drivers/net/wireless/broadcom/brcm80211/brcmfmac/brcmfmac.ko 
modprobe: INFO: ../libkmod/libkmod.c:332 kmod_unref() context 0x2ac5631430 released

And the result is:
$ nmcli d
DEVICE         TYPE      STATE         CONNECTION         
eth0           ethernet  connected     Wired connection 1 
wlan0          wifi      disconnected  --