Hey guys,
i am trying to install the new ubuntu 23.10 server image for my visionfive 2 and i had debian installed previously and that worked. Now i downloaded the live installer from here Download Ubuntu for RISC-V Platforms | Ubuntu, flashed that file to an sd card using balena etcher (i am running on windows) and tried to boot with an nvme in the m.2 slot. The sbc boots, but i only get errors and it ends up in the u-boot cli.
Same issues happen if i remove the nvme or use the preinstalled ubuntu image instead of the live installer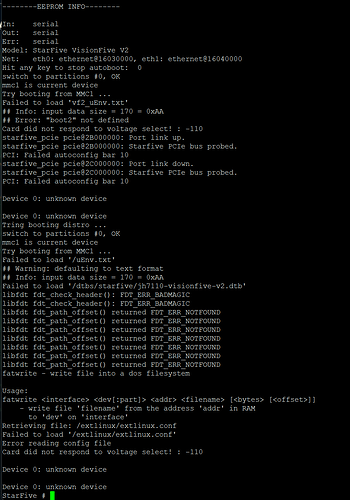 I can see the error "Failed to load '/dtbs/starfive/jh7110-visionfive-v2.dtb'" but i have found nothing about this issues and have no idea how to solve it.
Btw, i am working on windows and therefore would need a solution, that works on windows.