VisionFive 2 is the world's first high-performance RISC-V single-board computer (SBC) with an integrated GPU. Compared with its last generation, VisionFive 2 has been fully upgraded with significant improvements in the processor work frequency, multimedia processing capabilities, scalability, etc. Its superior performance and reasonable price make VisionFive 2 the best affordable RISC-V development board ever. Pairing with VisionFive 2, StarFive Technology has been releasing StarFive Debian with GPU support from time to time. To showcase today's rich ecosystem within RISC-V solution space, StarFive Debian demonstrated a full set of LibreOffice, Firefox browser, media player such as ffplay with hardware CODEC support, and various 3D games such as Quake II with GPU acceleration.
On top of that, we are pleased with various comments and feedback from the community related to VisionFive v2 and StarFive Debian. This is important to further stimulate the growth of RISC-V ecosystem while continuing to embrace the open-source way of doing things. With that, we are proud to announce our end Feb 2023 release of StarFive Debian. Its engineering release contains various enhancements and improvements being made internally and also contributions from various open-source communities and VisionFive v2 users. We will share the challenges and constraints that we are working closely with IP vendors and some experts within the open source community.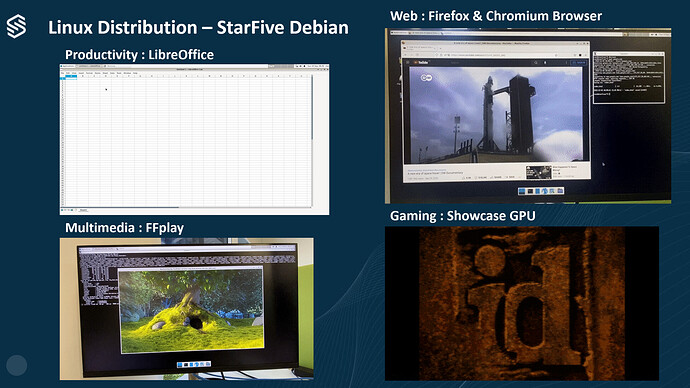 Here are some of the key highlights of this release
SD and eMMC boot is now supported
In this release, we are releasing the complete image for both SD card and eMMC flash devices.
We also updated the bootloader to ensure it can boot up from ROM to Debian using an SD card solely.

Only minimal image is provided
Previously, we are providing 2 types of images which is minimal and complete images (which contain applications executable such as LibreOffice).
Moving forward, we shall provide the minimal image with a shell script to get the additional packages from StarFive GitHub.

Debian snapshot updated
We are updating the Debian snapshot which is based on mainline Debian Sid images, including the XFCE package version upgrade too.
At the upcoming end of March, we will be releasing the GNOME desktop on Wayland Debian image which provides a much better and smoother user experience.
On top of the above, this release also includes various enhancements such as adding WiFi and HDMI audio support, OpenSSL version upgrade.
For more info, please refer to StarFive Debian release note: